Launch of three new products
We are very pleased to inform you of the launch of three new products, important for the health of birds.
Bio Energy Booster 500 g: good for stress, transport, recovery, exposition (with probiotics).
Calcium D3 500 ml: for smooth egg laying, muscle functioning and strong bones (with vitamin D3 supplement).
Herbal Mix 500 g: blend of natural herbs for immunity and general health (with oregano, milk thistle, dandelion, mint).
Welcome
Product Range doctor Coutteel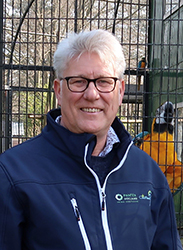 Doctor Peter Coutteel graduated from the State University of Ghent in 1983. From the beginning of his profession, Peter has put his focus on the field of birds. Thanks to his participation in congresses all around the world, his knowledge is not limited to healthcare of the most common species, he also knows a great deal about the less familiar feathered friends. His extensive knowledge and experience have already resulted in several scientific publications and he has enjoyed training many colleagues.

Since 2000, he has exclusively worked as a veterinarian for birds for 20 years at the Veterinary Clinic TRIGENIO in Nijlen (Belgium), which he founded.
Currently, he devotes himself exclusively to his business Dr. Coutteel Company, Vitamins and Nutritional Supplements for Birds, and is advisor for the development of bird medicines within the joint venture Pantex-Coutteel.
Through lectures and publications, he tries to help fanciers get the most out of their hobby. One of his main motivations is to use his experience to guide breeders and to demonstrate the importance of a positive cooperation between breeder and veterinarian.

Birds living in captivity require the breeder to imitate Mother Nature as closely as possible, both in terms of nutrition and housing... and this in all its aspects.
The philosophy of a newly developed product line concerning vitamins & nutritional supplements is very much in line with this thought.
Product line - Vitamins & Supplements